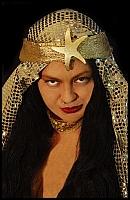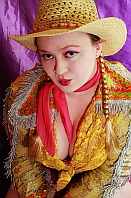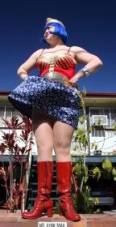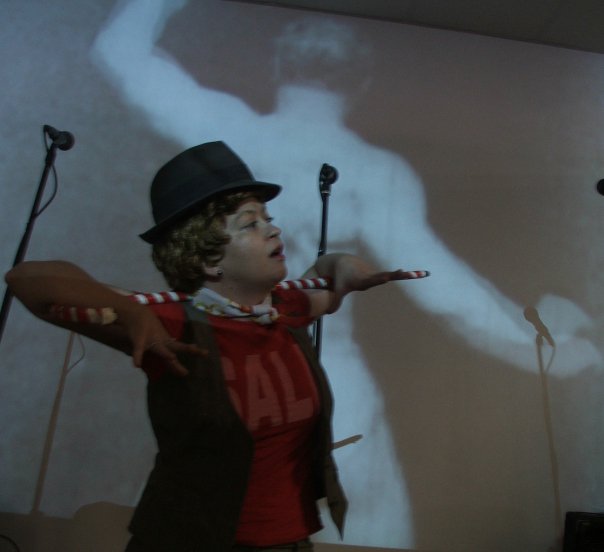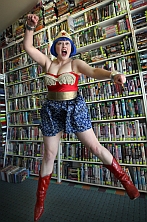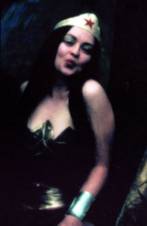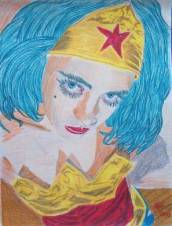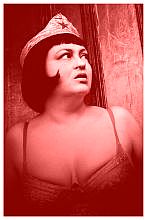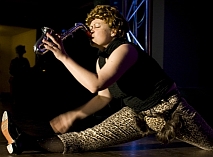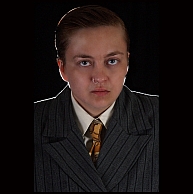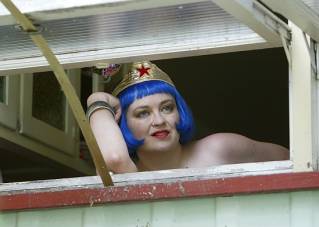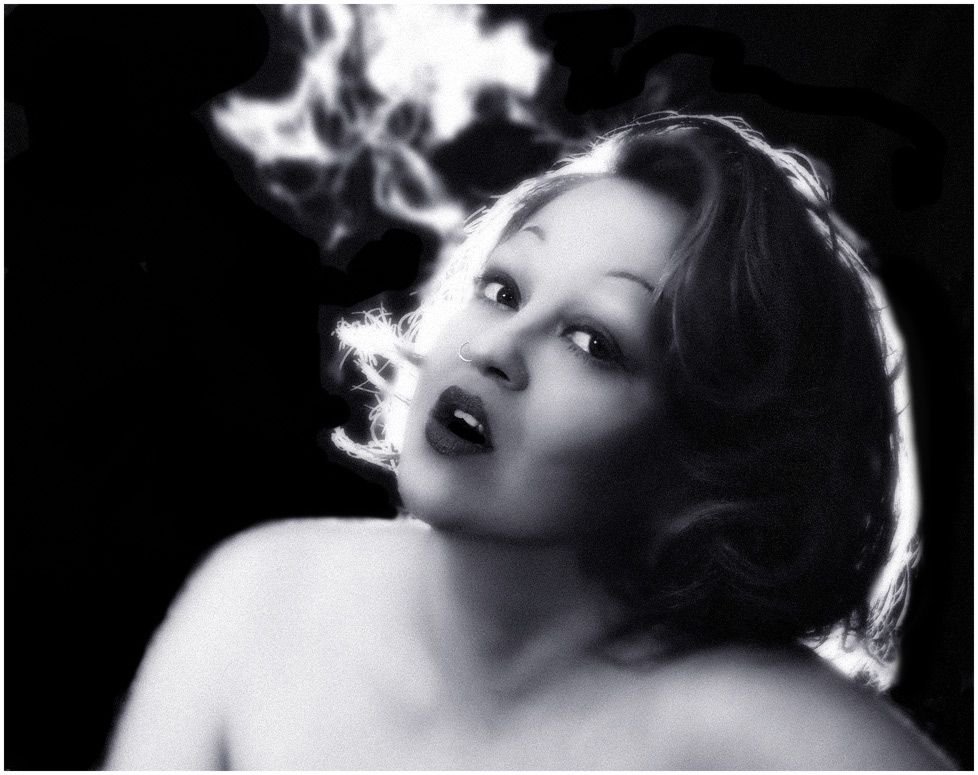 BIO SHEROES FANPAGE SHOWREELS INTERVIEWS FLYERS GIGS
REVIEWS SCRIPTS DOCUMENTATION ART PUBLICITY RESUME SURPRISE
13 January 2021 ASTRO ALL-STARS
The Astrology And Herstory Of Wonder Woman And Sheroes With Empressev
SUNSHINE STATE OF MIND EPISODE #11
YOUTUBE VIDEO or INTERVIEW TRANSCRIPT
(Re) Presenting | QUEER LIVING ART: 1990s BRISBANE DIY FASHION
by writer and performance artist Evelyn Hartogh Remix.org.au
(1989 -2017) BRISBANE ART & ACTIVISM
by Evelyn Hartogh Remix.org.au
QUALIFICATIONS
MASTER OF ARTS Creative Writing UNIVERSITY OF QUEENSLAND 2002
THESIS: The Lure Of Happiness: A Story About Love, Hate And Hair. University of Queensland Library, Fryer Thesis, The16863, St Lucia Queensland 2002
MASTER OF ARTS Women's Studies GRIFFITH UNIVERSITY 1997
THESIS: Barbie: fetish commodity : the merchandising of femininity and childhood, a performance perspective. Griffith University, School of Humanities, Master of Arts in Women's Studies Thesis 1997.
GRADUATE DIPLOMA English & Art Education QUEENSLAND UNIVERSITY OF TECHNOLOGY 1995
BACHELOR OF ARTS English & Philosophy UNIVERSITY OF QUEENSLAND 1991
"Wonder Woman greeted the parade and provided sartorial and satirical commentary thoughout the event. "I am pleased to see people of different ages and sub cultures celebrating dressing ups" said Wonder Woman."
Sunday Best The West End Way WESTENDER 10 Nov 2010
"Evelyn Hartogh performed a comic exposé of her politically confused and disenfranchised South African family roots. Besides an overemphasis on her family's significant obsession with 'farting' (you try spelling fighting in a South African accent) it celebrated the joy of survival and family issues. "
REVIEW Theatre Homoneurotic Cabaret The Judith Wright SAME SAME June 18 2009
"For about 15 years Evelyn Hartogh has been pulling on the iconic bulletproof bracelets … of her alter ego, the feminist superhero Wonder Woman … the Amazonian princess was the prefect fit for the performance artist's humanist ideals."
Graham Redfern THE COURIER MAIL Dec 2007
"Hartogh draws on well-known figures from popular culture to undermine sexism, racism and homophobia"
Melissa Giles LINK disability magazine June 2007
"This one-woman-show delivered by Evelyn Hartogh gets severely lost in the translation and descends into a preachy soapbox piece that accuses the audience of being racist, sexist, homophobic bigots. In a nutshell:A great idea that needs to return to the drawing board."
Dan Evans SCENE Aug 2006
"As Courier Mail photographer Rob Maccoll drove towards "Wonder Woman's West End headquarters" he knew exactly the picture he would take … a true Queensland character … Brisbane entertainer Evelyn Hartogh decked out in her loud Wonder Woman costume. Her photograph is the September illustration of the Courier Mail's Views of Queensland 2007 calendar."
THE COURIER MAIL Dec 2006
"Hartogh plays them all for laughs, as well as doing wicked impressions of the peripheral characters such as John Howard"
Nick Bray THE COURIER MAIL July 2006
"Her enthusiasm for the comic-strip character goes well beyond the professional"
Andrew Fraser THE WEEKEND AUSTRALIAN June 2006
"Pseudo-intellectual, half-assed, femanazi bullshit."
Nathan Brooks SEMPER Aug 2001
"Well-paced, switching between academic essays, short observations, photography and comical satires."
Ellen SEMPER Mar 1997
"Everyone has heard about Wonder Woman and Barbie. Hartogh dresses up as the characters in real life and uses satire as a way of making feminism, that dirty word, consumable"
Nicola Robinson THE SUNDAY MAIL Sept 1996
"Evelyn Hartogh doesn't believe art should be confined to gallery walls. The 22-year-old New Farm performance artist dresses up as Wonder Woman and uses a vacuum cleaner prop to make a statement about women in the 90s"
Des PartridgeTHE COURIER MAIL May 1994
CREDITS
Website Donated by JULIAN BOURNE, PATRON OF THE ARTS,
Technical Support by CRUINNE, Webpages Design & Content by EVELYN HARTOGH
BIO SHEROES FANPAGE SHOWREELS INTERVIEWS FLYERS GIGS
REVIEWS SCRIPTS DOCUMENTATION ART PUBLICITY RESUME SURPRISE